Finding a job is a challenging task. It is even more difficult for people that are still in college. In most cases, college students have little experience when it comes to job hunting and handling interviews, so most of them often feel lost when trying to find a job. Apart from this, the kind of jobs that college students can take is entirely different from ordinary jobs. They often have to juggle school and work, making it almost impossible for them to work regular nine-to-five jobs.
The good news is that a few tips can help college students find suitable part-time jobs that align with their careers and offer the financial package they need to support their education and college lifestyle. 
If you're a college student looking for a job, the following tips should help you find the right opportunity.
There are lots of places college students can look to find suitable job openings. The internet is one of the best resources, especially when it comes to online job sites. Students can create accounts on some of the most reputable job sites and search for jobs based on the industry they would love to enter.
Also, go through job postings and some of the companies you'd love to work with. Most companies post job vacancies on their websites. Regularly going through the career stages of some of the companies can help you learn about job vacancies as soon as new opportunities come up. 
College job fairs are also an opportunity for college students to meet potential employers.
Create New Connections and Showcase Your Experience
Just like job seekers, potential employers and recruiters also search for employees online. Having a robust online presence can make it easier for potential employers to find you. Creating a professional website or a LinkedIn account gives you a platform to describe your interests and list your accomplishments and qualifications to impress potential employers. 
Improve Your Application and Interview Skills
College students should find a way to compensate for their lack of experience in most fields. The best way to do this is by improving their job application and interview skills. Simple moves such as creating a professional email address for applying for vacant positions can significantly improve your chances of getting hired.
Also, customize the cover letter and resume for every job application to suit the advertised position. If requested to attend an interview, do some research about the company beforehand to learn critical details that could give you an edge in the interview.
Best Jobs for College Students
Education is usually a top priority for most people looking for the best jobs for college students. This significantly limits the number of available opportunities to college students. However, looking carefully can allow one to access some of the best vacancies. Below are examples of some of the best jobs for college students.
Online Paid Research
Online paid research has no limits concerning the geographical region, so college students from any location can earn from such opportunities. Any college student should read this before applying for online paid research jobs. Although some research studies target a very specific group of people, college students can find options they qualify for. Some online surveys pay as much as $1-$2 for simple 15-minute research. More specialized surveys can pay as much as $50 an hour, especially when they involve online focus groups or online interviews.
Restaurant Servers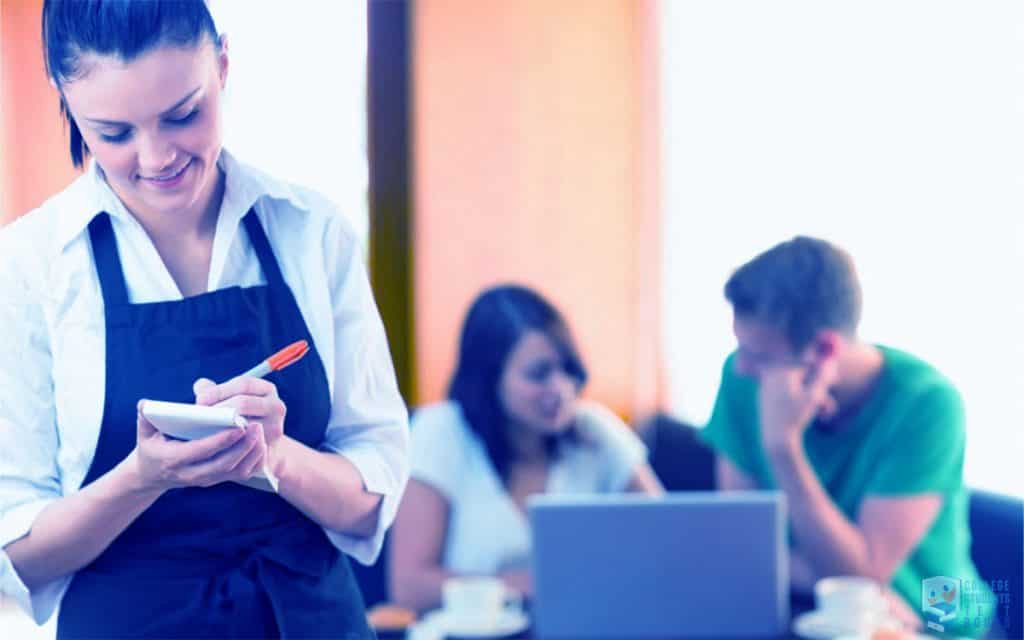 College students looking to make some extra cash can work as restaurant servers. This is an especially great opportunity for those that are extremely outgoing and love meeting new people. 
Their job is to greet diners, take orders, answer questions about the restaurant menu, set tables and communicate orders to the restaurant's kitchen staff and serve them once they are ready. 
They also have to clear used utensils and dinnerware and issue checks after the meal before collecting payment. Restaurant servers make an average of $10 every hour.
Bank Teller
As bank tellers, college students have various responsibilities, including helping customers complete financial transactions and making withdrawals or deposits. They also receive phone calls, count the cash, manage ATMs, and balance numbers, document deposit slips, and greet customers. College students can make as much as $12 per hour working as bank tellers.
In conclusion, college students have lots of job opportunities provided that they know where to look. Improving job application and interview skills can also help one get hired. Some of the standard jobs college students take include online research studies, restaurant servers, and bank tellers. However, the opportunities are endless, and one can work in any industry.