Two giant textbook publishers, McGraw-Hill and Cengage plan to come together in an agreement that will create the 2nd-largest provider of college textbooks and other higher-education materials in the United States.
The merger will be called McGraw-Hill and will be led by Cengage's CEO, Michael Hansen. Previously known as McGraw Hill Education Inc and Cengage Learning II Inc., both the companies are counting the all-stock deal as a rare merger of equals, that will help them in the new evolving market of digital books and online educational content.
The decision came as soft sales were observed in higher education and K-12 markets. According to initial estimates released by the Association of American Publishers this year, higher education sales fell 7.2% in 2018 compared to 2017, while K-12 sales dropped 4.6%.
It is expected that it will create a new company with approximately $3.16 billion in annual revenue, Cengage and McGraw-Hill's chief executives said in an interview.
Close competition is anticipated as revenue is expected as close as $5 billion, trailing the roughly $8.5 billion market capitalization of the UK-based Pearson PLC, a major rival in the U.S. higher-education market.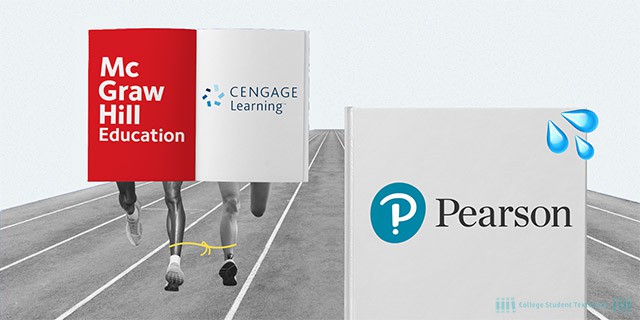 With a drastic changing educational landscape in which low-cost alternatives are often available online, both companies are still dependent on traditional print textbooks for half the income while the rest is from digital ebooks and class materials such as online homework assignments, and combining could help them make cost reductions.
The companies believed that their merger would yield $300 million of total cost savings over the next three years that they plan to utilize in the expansion of digital offerings and cheaper prices. "We want to make the experience much more affordable," Mr. Hansen said in the interview, hushing up arguments as to why regulators should sign off on a union of the rivals. The new company's leadership is likely to include executives from both firms which are both private equity-owned however McGraw-Hill CEO Nana Banerjee will leave after the transition.
This unison will give access to more than 40 thousand textbook titles as well as digital platforms including a recently launched subscription program by Cengage that allows students to pay a fee each semester for unlimited use of online etextbooks and some other materials.
New York-based McGraw-Hill had revenue of approx $1.6 billion, while the Boston-based Cengage reported preliminary 2018 revenue of roughly $1.5 billion.
Earlier, Cengage was known as Thomson Learning till it was sold to a group of private-equity firms including Apax Partners LLP in 2007.  However, the company filed for bankruptcy in 2013 due to heavy debt load, the growing use of online textbooks, and the popularity of textbook rentals. In 2014, it resurfaced with a major focus on its digital business. In addition to Apax Partners, Cengage is backed by private-equity firms Searchlight Capital Partners LP and KKR & Co.
Apollo Global Management LLC agreed to buy McGraw-Hill's education division in 2012, ending a plan by the publishing company to take the unit public as part of separating its financial businesses from its textbook business, now known as S&P Global Inc.
The decision for a merger was taken in the past few months after Banerjee and Hansen arranged to meet at a conference.
Should the deal close and go according to plan, the combined company could ultimately go public or give its backers another way to exit their investments in the next few years, Mr. Banerjee said.